Inaguration ceremony of the Varun Beach Multiplex, INOX in north AP took place on 16th March 2010, on the occasion of UGADI (Telugu New Year). This INOX in Varun Beach Mall, Beach Road, VSKP is of 6 screens, 1166 seats including 37 luxurious recliner seats.

Much awaited INOX with 4 screens in CMR Central is also on the way. Let's wait for it.
The tickets are in two types 1. Executive Class of Rs.125 (100 earlier) each and 2. Royale Class of Rs.150 (200 earlier) each. For Booking of Tickets, Home Delivery call 0891-2555100, SMS INOX to 575757 and Online INOX ticket Booking done on For ETicket Click Here
Finally INOX Mutiplex Movie Theatres, the most awaiting entertainment giant in India is about to finish an international standard multi-stored Mutiplex at Beach Road, Visakhapatnam, Andhra pradesh, India. It is just located opposite to "The GATEWAY Hotel" (earlier known TAJ Hotel of Taj Group) and beside "The Grand Bay" in beach road. It has Six screens inside it.
INOX Picture Gallery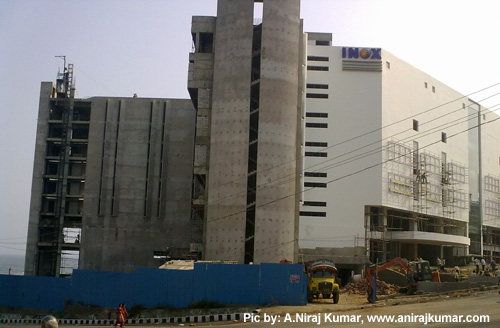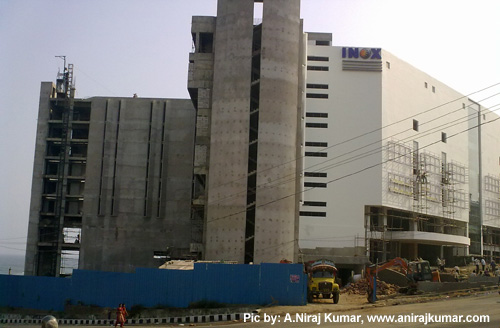 This project is owned by Varun Group. And named as "INOX VARUN BEACH". Apart from this Varun Group is working out on NOVOTEL VARUN BEACH, 1st 7 star hotel in Visakhapatnam, to enter into Hospitality sector, with all 240 rooms giving a chance to it's visitor a have a glimpse of Bay of Bengal.
I am sure it is going to be one of the biggest HIT in the city in entertainment sector, as there are no other multiplexes of this standard in the city around. As we all know APIIC has set up a IT park in Rushikonda, Visakhapatnam, India. There are more than a couple of dozens of software companies who have purchased lands and some have already set up their infrastructure and started up operations. Some of the companies already functioning are SYMBIOSYS TECHNOLOGIES, KENEXA, SOUTHERLANDS, on the top most areas of Rushikonda, Visakhapatnam, India. AS a result of which there will definitely be improvement in living standards of vizagians. And will be a good amount of money flow into the city. I would say INOX VARUN BEACH will make a good money 🙂 . Best of luck Varun Group Vizag.
Thanks for reading this article. Let me know your comments or questions or suggestions. I will always love to get back to you asap. Cheers!
Disclaimer: INOX ® is registered trademark of INOX entertainment ltd. I am not associated with neither Varun Beach INOX or INOX.