Update: KFC have set up a restaurant in CMR Central, Visakhapatnam. This will add another reason for us to visit CMR Central regularly. To know more about KFC Pricing
Grand opening of "CMR Central". Hurry! Good News for all shoppers of visakhapatnam (vizag), Andhra Pradesh, India. Now CMR Central opened it's ultimate international shopping mall in our own city.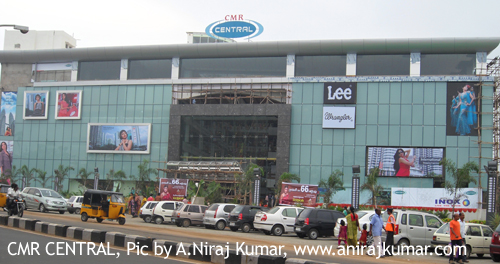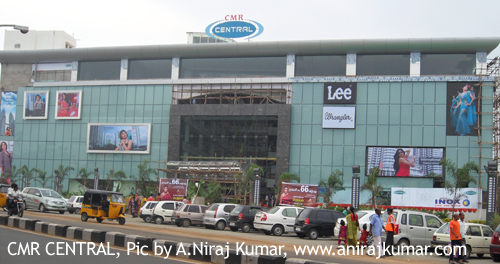 As we know CMR (Mr.Chandana Mohan Rao) owns 4 cool shopping malls in vizag named CMR Shopping Mall (Opp. Judge Court) , Chandana Bros(Jagdamba Center), CMR Grand (Asilmetta), CMR (Gajuwaka Main road). Now have a international standard shopping mall for all of us named "CMR Central" just opp to Andhra University main gate near maddilpalem square (Traffic Square) .
It has 4 INOX movie theaters in it. So you can have international standard FUN, Food and Entertainment under the same roof. (UPDATE: INOX in CMR Central Launched on 3rd April 2010. And ready to entertain us.)
Me and my brother A.Murali Kumar who is also a Freelancer went to Central 2 days ago and bought some cool dress for him from MUFTI Showroom in 2nd floor. The other branded showrooms are under finishing mode. I will keep you posted here with recent updates. Of course yes if you are a Girl / Woman 🙂 you have everything to empty your dad's / Hubby's pocket empty. They have jewelery , Sarees, all types of dress materials for you. Just go and have FUN 🙂
Dont forget to let me know your experience at CMR Central as soon as you get back. I will soon be adding more new pictures / images of CMR Central here keep visiting.. For more information.